Weekend Review - 7th September
Posted by Ewan Campbell on 10 September 2019
Western Lettings Hillhead 7s 0-8 Stepps 2s - Auchenhowie - West District 3 (North)
It was a difficult afternoon for one of the youngest development sides we have ever fielded against a strong and experienced Stepps 2s. To the boys' credit, they never gave up for the entire 70 minutes and created some great chances in the last ten minutes. Ronan McGeogh came closest with a strike from top circle after the Hillhead press won back possession high up the field. Overall the second half was a massive improvement on the first and the squad are unlikely to face opposition as strong for a while. 
Western Lettings Hillhead 6s 1-8 Western Wildcats 4s - Old Anniesland - West District 3 (North)
The sixes got their league campaign underway with a home match against Western Wildcats. Unfortunately, they were beaten by a very good Western team which had a mixture of young and older experienced players. 
Western Lettings Hillhead 5s 1-7 Western Lettings Hillhead 4s - Old Anniesland - West District 2
A tough game for Hillhead 4s, despite the scoreline there was never a time that it wasn't competitive.  The difference was the 4s ruthless finishing and amongst many very strong performances two stood out, Jamie Gillies' two goals were clinical shots and his two assists involved subline stick skills to set up teams mates.  
Dan Ebbatson won the man of the match though with two lifted first-time shots from the top of the D and then a mazy run from just outside the 25, picking his way past 6 tackles (3in the D) and finishing with a deft flick over the keeper, the best solo run and goal for a fair few seasons. 
GMK netted the other two from penalty corners.  Top of the league for all of last season the 4s are back there again but with tougher tests to come than last year in the form of East Killbride 1s and GHK 1s.  Hillhead 4s put in a good performance and will definitely win a lot of games.  
Western Lettings Hillhead 2s 5-2 Western Lettings Hillhead 3s - Friendly
A fantastic way to start off the day. A very competitive match between our 2s and 3s showcased some fantastic individual skills and great team passing moves from both sides. Despite the sun coming out and most of the spectators reaching for a little sunscreen, Jack Chitty still had about 19 layers on. The 2s won the day with some clinical finishing but the 3s will be optimistic ahead of their first league fixture against Greenock on the 21st.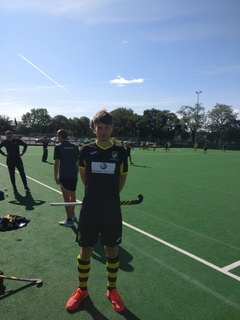 Ben Walker showing off our new sponsored tops
Western Lettings Hillhead 1s 0-1 Dundee Wanderers - Friendly
The first quarter saw the only goal of the match and unfortunately it was scored by Dundee Wanderers! The Hornets tested the Dundonians keeper on many occasions but were definitely snatching at chances. Plenty more to come from the squad as they find their feet.
Western Lettings are an ARLA licensed, multi-award winning independent letting agents in Glasgow. Currently in our eighth year of operation, our objective is to continue specialising in letting and managing property without becoming side-tracked by other ventures, such as property sales and development.